How To: Reach Your Dogs Potential & Sky-Rocket Your Relationship with our 8 week Online Trick Training Masterclass
**BONUS COURSE INCLUDED: Understanding Your Dog a seminar for serious owners who want to MAXIMISE their success!**
---
Hey new friend, I'm so pleased you are here.
Let me tell you how a simple decision to take this course is going to change your life.

When you choose to bring a dog into your home, they become an integral member of your family. They affect everything you do from that moment on, for better and worse. They are with us every single day for their whole life and are considered in every decision we make.
...AND YET...
No matter how much we love them, we lack the knowledge to understand their behaviour and the skills to effectively communicate with this very different species.
As a consequence, dogs are often misunderstood, frequently unfulfilled and ALMOST NEVER reaching their potential.
Is it any wonder they can drive us up the wall at times?!
All of that untapped potential, living their life in your home, their happiness in your hands.
Here's the great news - that dog you crave is in there somewhere.
---
Ask yourself these Q's:

How much happier

would your life be if your four-legged family member was focused, attentive and actually WANTED to work with you?

How much time, energy and money would you save

if you understood the inner workings of your dog, and could quickly and easily teach them anything?
What difference would the peace of mind that comes with having a well-behaved dog mean to your family?
How about the contentment you would feel at enriching your dog's life like most other dogs never get to have?
---
*WARNING: Taking this course will legitimately make you feel sorry for everyone else dogs, their poor quality relationships, lack of understanding and untapped potential* (welcome to my world - don't say I didn't warn you!)
---
This course is perfect for you if you are one of these three people...
You're a dog owner who needs to fix a problem behaviour.
You need to learn what makes your dog tick, how they take in new information, AND you need to build a working relationship - This course contains the tool kit you are going to need.
PLUS: This course comes with an awesome *Bonus - Understanding Your Dog absolutely free. This Course will teach you what makes your dog who they are, where behavioural problems arise and how you can start fixing them today.
OR...
You're a dog owner who believes their dog deserves the very best in life.
If you and your dog have an amazing relationship already, then you'd be crazy not to cash in on it! You see the foundation you have achieved, is the PERFECT platform to Sky-Rocket your bond creating impressive new behaviours and giving you the key to unlocking the mechanics of how your dog sees their world. When you have this insider information, you guys will be unstoppable. This is the course your dog wants you to take.
PLUS: This course comes with an awesome *Bonus - Understanding Your Dog absolutely free. This Course will teach you what makes your dog who they are today, and how your can create fulfilment, health and happiness to maximise your results.

OR...
A dog professional who wants their own dog to know loads of impressive behaviours, OR teach tricks to your own clients!
Your own dog is not only your business partner but also your very best advertisement! This is where you need to SHINE. Not only will the Trick Training Masterclass create impressive results with your own dog, but my step by step approach will give you excellent new teaching skills to use with your own clients. Are you ready to blow your clients away?
PLUS: This course comes with an awesome *Bonus - Understanding Your Dog absolutely free. This in depth seminar will be excellent revision for your CPD, and give you an insight into how I have the clients success rate I do, and how my clients achieve amazing results by following my formular.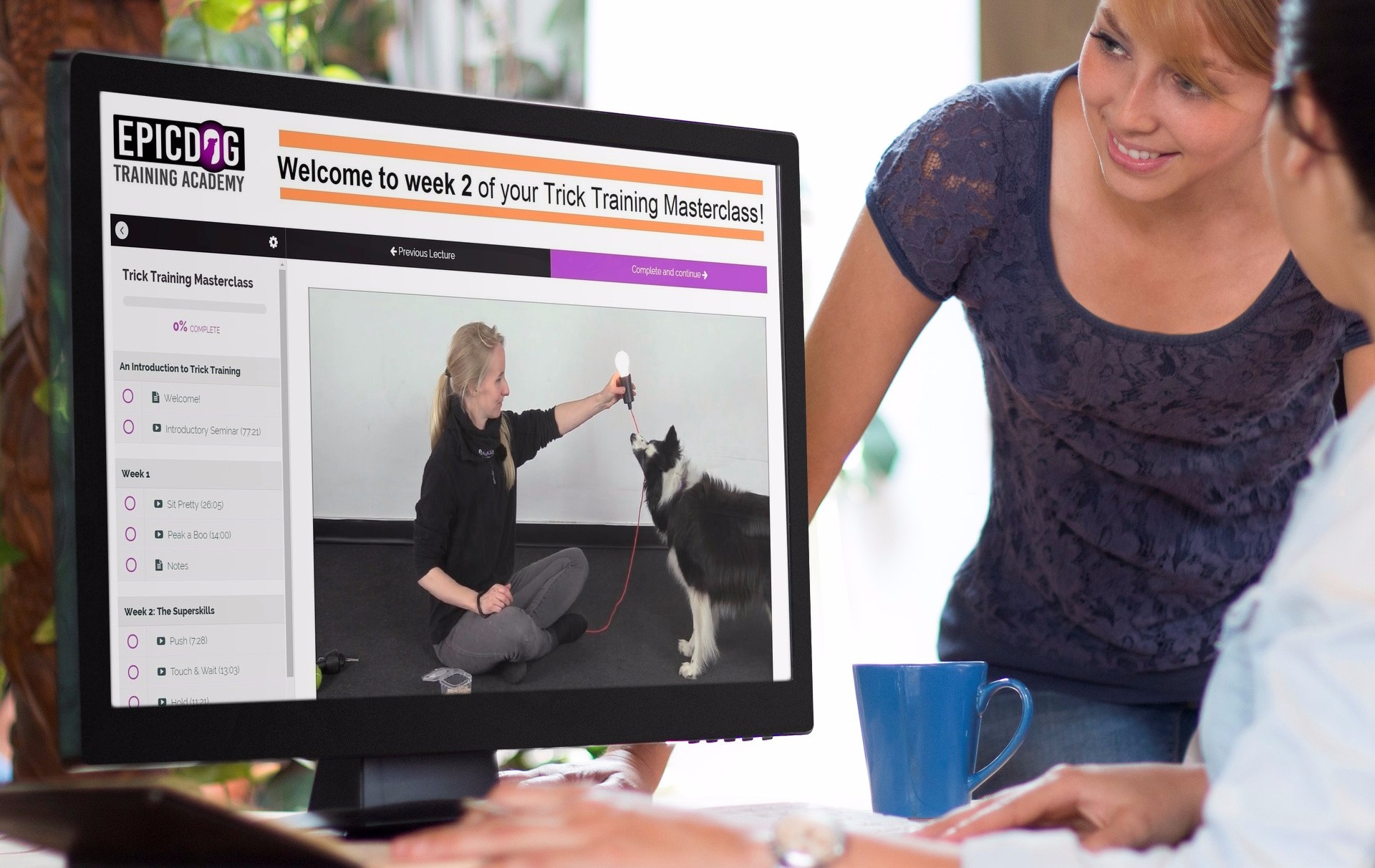 Here's EXACTLY what's included
**£4000 worth of Training with a Master Trainer**

Trick Training Masterclass 8-week online course
Insider information: How your dog learns - Introductory Seminar

Top trade secrets: The 6-essential foundation behaviours

Step by step teaching: 16 impressive tricks in HD video

Expert tuition: Guidance from Christina every step of the way

Brand new skills: To teach your dog ANY new behaviour

BONUS #1

Access to recordings of

Q&A troubleshooting & supportive extra training!


BONUS #2

PDF's of all the Tricks included for quick reference!


BONUS #3

Specialist Course Included: Understanding Your Dog, an hour and a half seminar which will change the way you think about your dog forever!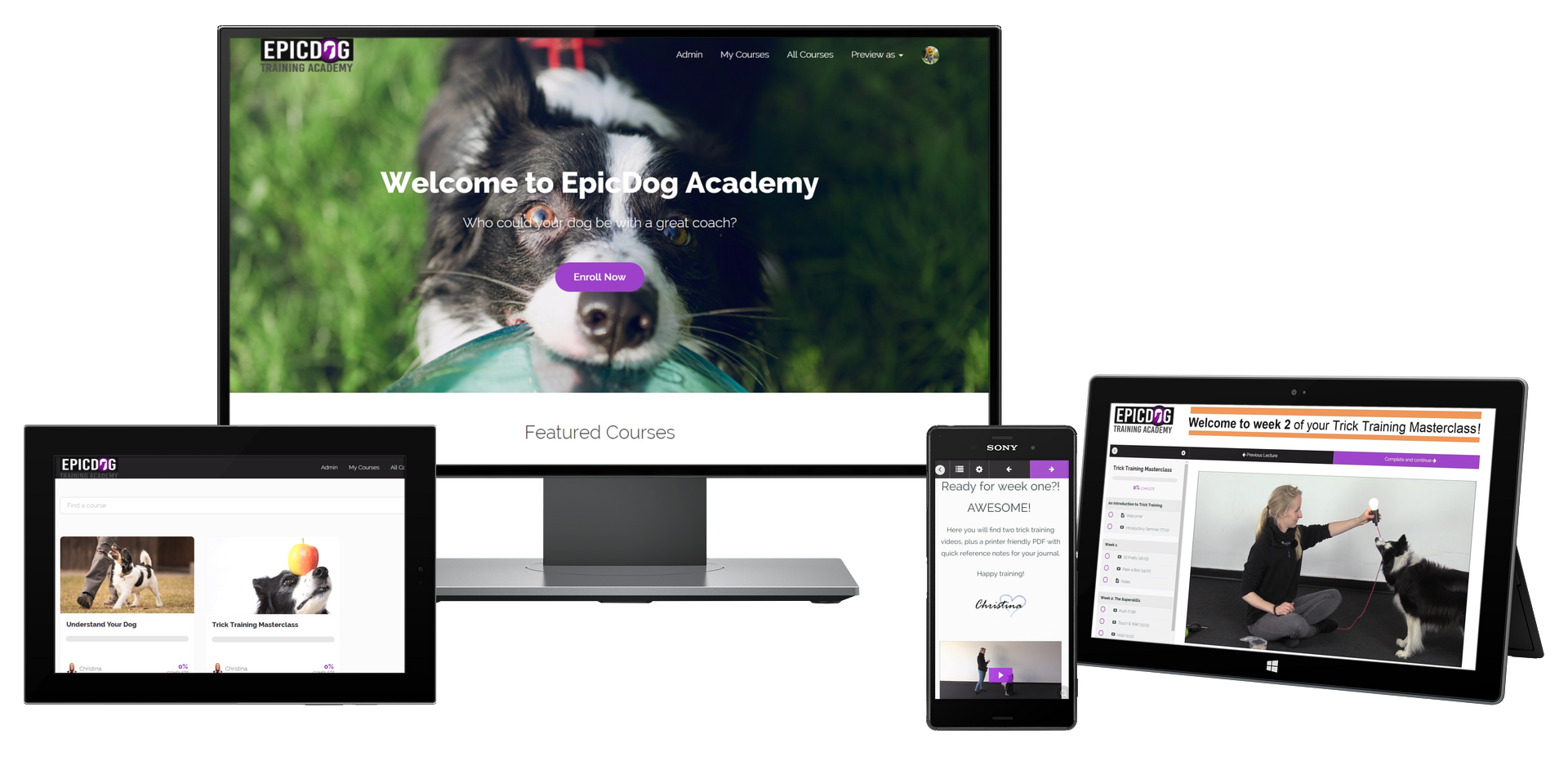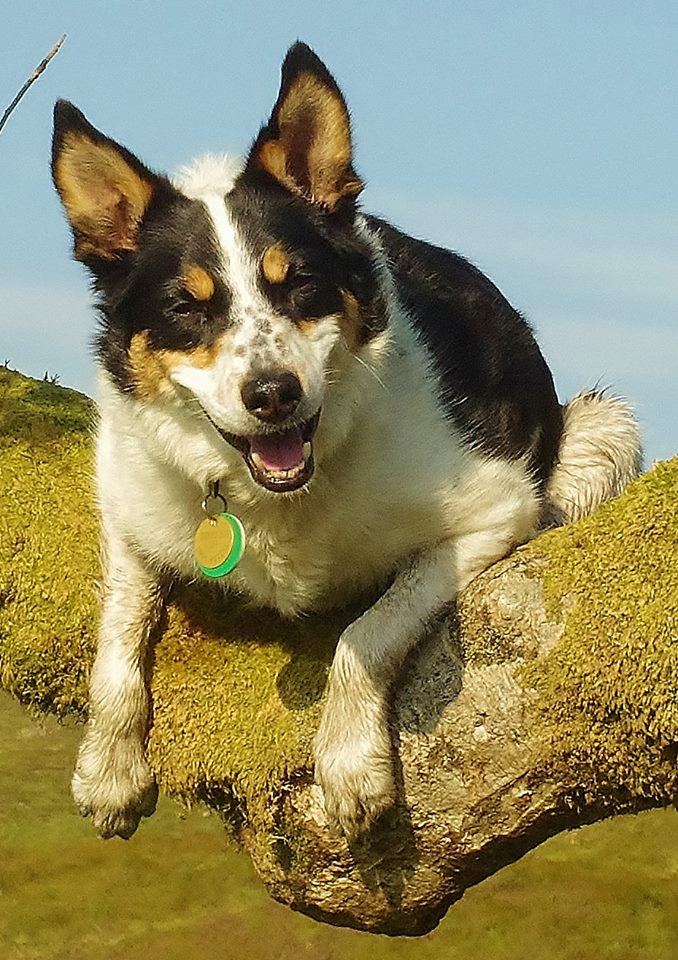 "Just halfway through your first lesson - it's brilliant! Learnt loads already. You explained the principles of clicker training very clearly - always been a bit of mystery to me before!"

- Stephen Austin, Search and Rescue dog handler team.
What are the 16 AMAZING Tricks we will be learning?
Sixteen step by step coaching videos teaching…
Turn on the light

My Dog Can Read

Fetch Your Lead

Sit Pretty – The safe way

Peekaboo

Chin target

Paws Up

Spin & Twist

Wrap Around

Roll over

Crawl

In & Out

Take a Bow

Hoop Jump

Push a Ball

Hand Touch
BONUS: Secret EPIC Trick!
+ 6x Base behaviours to supercharge your success!
+ Extra Recordings with Christina from an old secret Facebook Group with troubleshooting, Q&A, and EXTRA awesome training!
Meet Your Instructor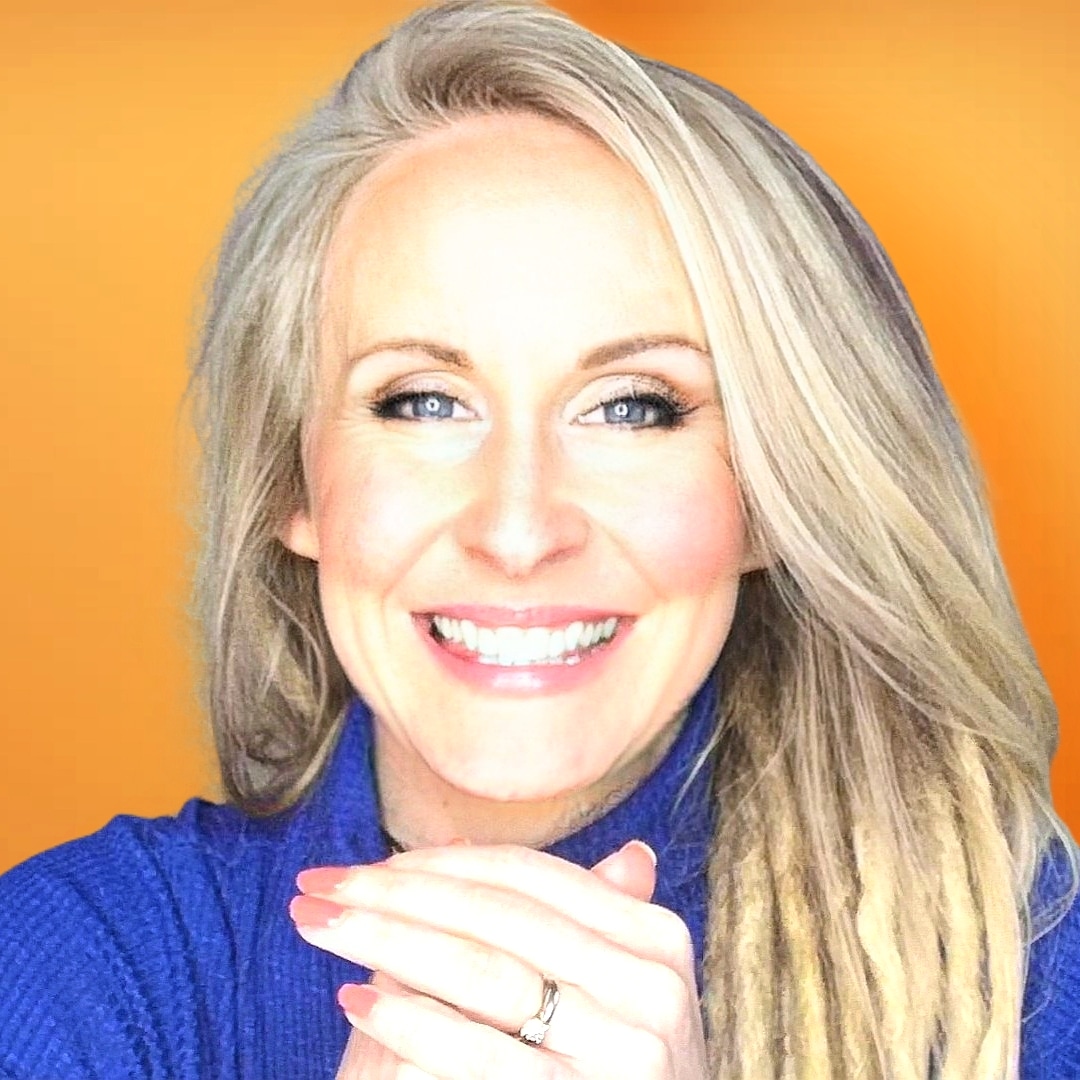 Canine Behavioural Practitioner & Founder of EpicDog Training Academy
MCFBA: A full member of the Canine and Feline Behaviour Association
GoDT (M): A Master Trainer with The Guild Of Dog Trainers
Council Member and Accredited Learning Center of the PETbc
Member of The CPD Certification Service providing recognised independent CPD Accreditation.
WSDA: A World Scent Dog Association Instructor
FFTT: A Force Free Trick Training Instructor
Superdogs Instructor
18 years experience in Behavioural Modification
Intuitive easy design

Across your devices


Lif

etime access
"As a behavioural consultant – I find it BIZARRE that people choose to live with another species that they don't understand or know how to communicate with!
Your dog has SO MUCH POTENTIAL. Did you know that you dog can read that one side of your face tells a truer emotion than the other, people can't even do that.
They are living beings with consciousness and a central nervous system, perfect for taking in new information and adapting they behaviour to get the best of their environment. They are literally wired to learn new stuff.
People comment everyday on the amazing relationship I have with my dog.

People seem to think there is something unique about Skye, or me. I lap this up, because I think she's more wonderful than words can ever say...

...but the truth is this is something we have knowingly, deliberately built together, step by step - and you and your dog can too.
I spend my working life, helping people just like you, to UPSCALE their relationship with their dog to levels they previously only dreamed of, so I KNOW it's doable.

Any time spent consciously training your dog, is a massive investment in your future.

You see, you are training your dog all the time - whether your are trying to or not.

But training tricks is SO MUCH MORE than teaching a cool or cute behaviour.

It is THE fastest and strongest way to build the depth of relationship that people only dream of with their dog.

The potential for this is within EVERY dog handler relationship, but you need to know EXACTLY how to access it for epic results.
Join me, and I promise it will be the best decision you ever made for your family and your dog."

Your friend and coach,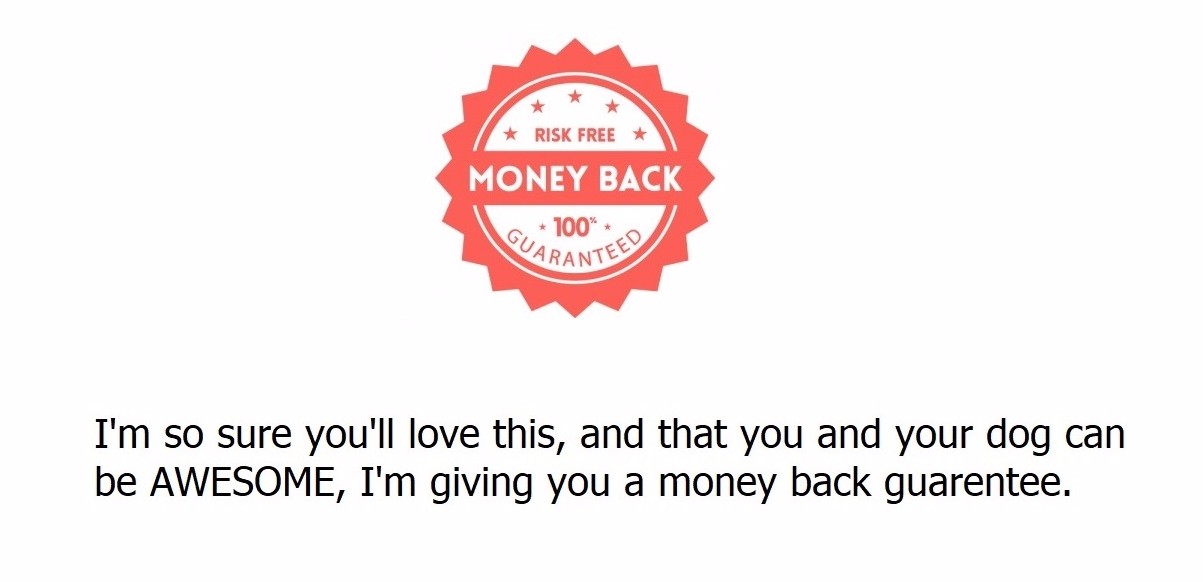 Course Curriculum
An Introduction to Trick Training
Available in days
days after you enroll
Week 1
Available in days
days after you enroll
Week 2: The Superskills
Available in days
days after you enroll
Frequently Asked Questions
I am a complete beginner, is this course ok for me?
Absolutely! This course is designed to teach you everything you need to know, from start to finish.
When does the course start and finish?
The course starts now and is released over 8 weeks! It is a completely self-paced online course - you decide when you start and when you finish.
How long do I have access to the course?
How does lifetime access sound? After enrolling, you have unlimited access to this course for as long as you like - across any and all devices you own.
What if I am unhappy with the course?
We would never want you to be unhappy! If you are unsatisfied with your purchase, contact us in the first 30 days and we will give you a full refund.